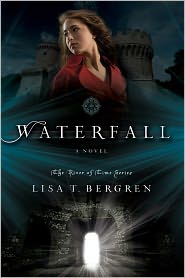 From the Editor: Lisa Tawn Bergren's new YA series, River of Time, is romantic, historical fiction in which the plucky heroine doesn't have to fear a vampire's bite but must still fight for her life.
In Book One, American teenager Gabi Betarrini accidently finds herself in sixteenth-century Italy . . . Knights. Swords. Horses. Armor. And Italian hotties.
Most American teens want an Italian vacation, but the Bentarrini sisters have spent every summer of their lives there with their archeologist parents. Stuck on yet another hot, dusty dig, they are bored out of their minds… until they place their hands atop handprints in an ancient tomb and find themselves in the sixteenth-century—and in the middle of a fierce battle between knights bent on killing one another.
My Review: I spent all day yesterday listening to this book on CD. What an amazing adventure... time travel back with Gabi and Leah to ancient Italy. The history and fiction of this book blend so well together that you're gripped in awesome drama from the very instant the book starts. Gabi's 17 and she's spent most of her life near archeological digs and absorbing the history first hand whether she intends on learning it or not. Leah is a couple of years younger, she's artistic, a great archer and a little to trusting. Gabi talks Leah into getting a sneak peak at one of the tombs her mother is working on. Inside that tomb on the wall are two hand prints... of course Gabi can't resist touching the one that fit her hand and then talks Leah into touching the other. When both girls touch the prints at the same time they're sent back in time to sixteenth-century Italy.
There they encounter to different feuding families and are caught up in a battle of a lifetime for land, fortune and for Gabi LOVE.
This is the first book in the River's of Time series. The next book Cascade is due for release in June ... I totally can't wait for its release. I want to read it NOW...LOL. I'm giving this book ♥♥♥♥ out of 5. Its absolutely one I'd recommend if you want to get away for a nice trip back in time!