Morning Fellow Readers,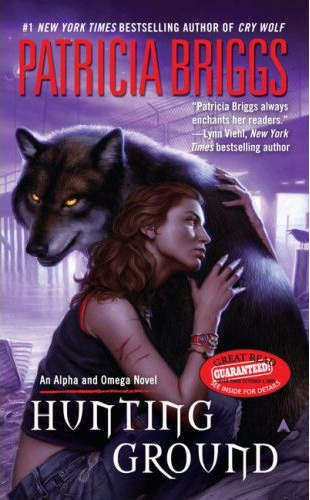 Tough week so far and its not over yet!!! I am excited to say I finished another book... WoooHooo!
I honestly thought I'd read it over a year ago, only to discover that wasn't the case. "Hunting Ground" by Patricia Brigg's has been sitting on my shelf since I made the purchase. Waiting so patiently for me to pick it up and dive in. I did!!! I

♥

the Alpha and Omega series, which to me is just an extension of Mercy Thompson's world. This is the second book in the Alpha and Omega Series. One of my favorite worlds to escape into, this book gave me a way to let the stresses of the day just disappear with each word I read. I give this one
♥
♥
♥
♥.
From The Editors: Anne Latham didn't know how complicated life could be until she became a werewolf. And until she was mated to Charles Cornick, the son—and enforcer—of Bran, the leader of the North American werewolves, she didn't know how dangerous it could be either...
Anna and Charles have just been enlisted to attend a summit to present Bran's controversial proposition: that the wolves should finally reveal themselves to humans. But the most feared Alpha in Europe is dead set against the plan—and it seems like someone else might be, too. When Anna is attacked by vampires using pack magic, the kind of power only werewolves should be able to draw on, Charles and Anna must combine their talents to hunt down whoever is behind it all—or risk losing everything...
Off to read "Cryer's Cross" by Lisa McMann.
From the Editor:
Seventeen-year-old Kendall, who suffers from obsessive-compulsive disorder, lives with her parents on a potato farm in a tiny community in Montana, where two teenagers go missing within months of each other, with no explanation.